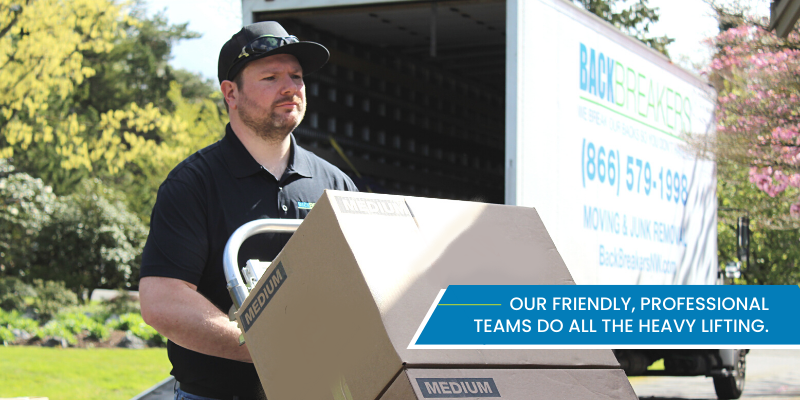 Your One-Stop Office Moving Service
Want to work with commercial movers businesses in the Pacific Northwest trust? You've come to the right place. Welcome to Backbreakers NW, a top-rated office moving company with years of experience serving all of Island, Skagit, Whatcom, San Juan counties. 
Moving your office to a new location can be an overwhelming process. That's why it's important to work with commercial movers that business owners like you can rely on. We pride ourselves on our talented team of full-time project managers, support staff, office movers, installers, office moving van drivers, and warehouse workers.
Our on-staff office movers and project managers will guide you through the process of your office relocation service to ensure you have an efficient, comfortable, and effective office move. We make it our goal to make your office move stress-free. How?
We offer the following office moving services to all of our customers:
Our experienced office movers at Backbreakers NW know that careful planning, experienced personnel, and a detailed office moving process are the key to a successful office move. With our years of office moving experience, our dedication to listening to our office moving clients, and our detailed project management process, our clients have come to expect nothing but the best—a standard they receive every time they work with Backbreakers.
When you move with us, you're investing in excellence in all areas. We want to make sure you can focus on your business while we tackle all of the tasks that come with relocation.
"These guys were terrific. We had a big 2-day move during a really bad rain storm. We also had a steep driveway that the guys had to walk everything up on the back end. They were so careful with our items, so friendly, and kept positive attitudes with us and each other the whole time. Could not recommend them more!!!"

Stephanie R.
Take Back Your Space Without Lifting A Finger